Portada » PC » Accion » Star Wars Shadows of the Empire PC Full
Star Wars Shadows of the Empire PC Full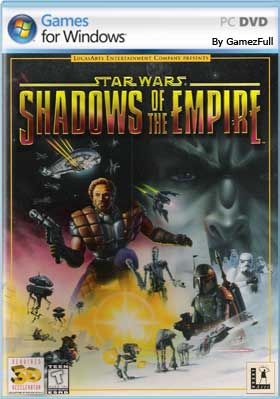 Ambientada entre The Empire Strikes Back y Return of the Jedi, Star Wars Shadows of the Empire cuenta la historia de la búsqueda del Príncipe Xizor para reemplazar a Darth Vader como líder de los Sith, y acabar con las posibilidades de victoria de los Rebeldes. El único hombre que puede detenerlo es el cazarrecompensas interestelar Dash Rendar. El juego se basa en la novela del mismo nombre, con lugares que incluyen el planeta helado Hoth, Mos Eisley y las alcantarillas de Ciudad Imperial, todo en 3D.
Los niveles tienen objetivos muy diferentes, que van desde pilotar deslizadores de nieve en Hoth y carreras de motos speeder en Tatooine hasta disparar a soldados de asalto y droides a pie por toda la galaxia. Dash usa principalmente un bláster con munición ilimitada, pero también puede encontrar armas más poderosas con munición limitada. Cada nivel tiene "puntos de desafío" opcionales que están ocultos en todo el nivel, y al encontrarlos se desbloqueará un truco dependiendo de la dificultad para establecer el archivo guardado.

Título: STAR WARS SHADOWS OF THE EMPIRE
Género: Acción, Aventura
Desarrollador: LucasArts
Editor: Disney Interactive, LucasArts
Fecha de lanzamiento: 17 SEP 1997
Idioma Sub: Inglés |

Doblaje / Audio:

Tamaño: 264MB (EXE)




Requisitos Mínimos:
SO: Windows 7 / 8 / 10
Procesador: 1.8 GHz Processor
Memoria: 1 GB de RAM
Gráficos: DirectX 9.0c Compatible Video Card w/ 256 MB RAM
DirectX: Versión 9.0c
Almacenamiento: 329 MB de espacio disponible

⇓
Instrucciones de Instalación:
1- Descomprimir o Extraer
2- Abrir el (setup_sw_shadows_of_the_empire_2.0.0.9.exe)
Para iniciar el instalador del juego
3- Instalar.
4- Al finalizar la instalación, dejar tu comentario debajo para saber si te
ha funcionado correctamente

NOTA:
Este juego solo está disponible en inglés
⊥

Consta de 1 Link 272MB


Visitas 2309